Zooey Deschanel is pregnant and expecting her first child with her boyfriend Jacob Pechenik, her rep confirms to Us Weekly.
Quirky actress Zooey Deschanel, 34, and producer Jacob Pechenik, 42, are eagerly anticipating the arrival of their little one this summer.
Deschanel's pregnancy overlaps with that of her famous big sister Emily Deschanel, who is currently expecting her second baby with David Hornsby. Luckily, Zooey will receive great advice from her sibling, who told Us Weekly she was handling her pregnancy like a health nut.
"I work with a nutritionist to make sure I have the protein that I need," Emily told Us last month at a Bones party, adding that her pregnancy craving was lemonade.
"It's so weird," she added. "I just get thirsty. You have to drink more water and I can only drink so much water. I used to drink a ton of [fluids] and now I've hit my limit so I think of a variety. Once I get thirsty, I'll want lemonade or a sparkling water. Maybe it is citrus fruits!"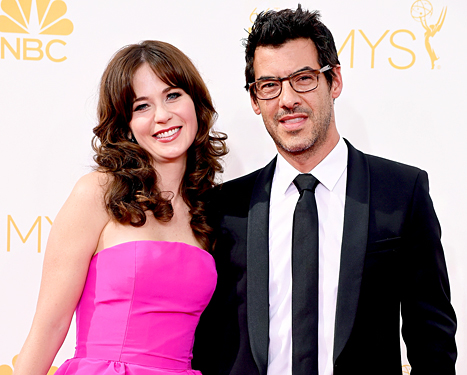 photo: Steve Granitz/Wire Image
"Jacob and I are over the moon," Zooey Deschanel told People. "We are so excited to meet our little one."
Deschanel has been dating Pechenik, a 42-year-old producer, since mid-2014. No word yet about the baby's sex — but we hope it's a girl because who wouldn't want to watch a mini-Zooey grow up!
You can watch Zooey Deschanel in "New Girl", which is in its fourth season, airing Tuesdays on Fox.