Although the notorious bachelor has claimed he will never marry again, George Clooney put a ring on a sexy Lebanese-born lawyer. After dating many types women for many years, Clooney is definitely not settling with his new fiance Amal Alamuddin. Find out all you need to know about Clooney's fiance and his laundry list of past women.
The question as to whether or not George Clooney will ever wed has been a running joke in Hollywood for years. He even made a bet with Michelle Pfeiffer over his permanent bachelor status. (He owes her about $100,000 now.) He has said in multiple interviews that he is not the marrying type and therefore does not plan to ever marry again.
His only marriage was to actress Talia Balsam from 1989 until 1993. After the divorce, Clooney was clearly upset and did not publicly date until three years later. Once he was ready to date again, George Clooney became a notorious serial dater.
Fun fact: Prior to marrying his wife, Clooney dated actress Kelly Preston. Preston would go on to marry John Travolta in 1991, they are still together.
He has dated every stereotypical gorgeous woman out there… cocktail waitresses, law school students, actresses, and models; all from various countries. Just prior to dating his now fiance, Clooney dated wrestler-turned-model Stacy Keibler from 2011 until 2013. She is now married and expecting her first child.
Only three short months after Keibler and Clooney jointly broke off their relationship, Clooney began dating Amal Alamuddin, who is currently practicing law in England. According to reports she initially rejected his advances and he had to beg her for her number and a date. George was probably shocked that any woman could resist his charm…
The two were first spotted out together in October 2013. Towards the end of April 2014, Amal was spotted showing off an extremely large and beautiful engagement ring while at dinner with Clooney, Cindy Crawford and her husband Rande Gerber.
Amal Alamuddin is not only movie star gorgeous, she is also extremely intelligent. She has a law degree from Oxford University as well as a Masters in Law from New York University. She speaks English, Arabic, and French, which has aided her career on the international scene. She  has worked in multiple countries and represented some extremely high profile cases, including the Enron and Wikileaks cases.
Amal is the type of woman Clooney needs: independent, challenging, and insanely bright. No offense to his former flames, but she doesn't need Clooney to help her score notoriety or bump up her career.  On top of her impressive law career and being a published writer, she is only 36 years-old. No wonder Clooney went all out on the engagement ring, which is speculated to be a 7-carat diamond and worth an estimated $700,000. No wedding details have been released, but the newly engaged couple is obviously head-over-heels for each other. It will be interesting to see if they team up for human rights causes, since that's the bond that first brought them together!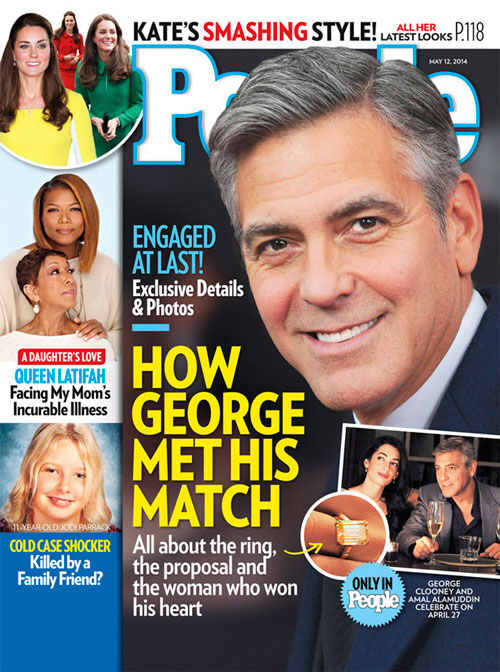 photo: People Magazine