We are so happy Drew Barrymore decided to take us along with her as she tasted her way across Tokyo. Yes, we are a little jealous…but even more inspired to branch out and find our own foodie experiences.
Drew Barrymore spent some time trying out Asian twists on American comfort food to sampling some internationally renowned sushi, Barrymore sampled some of best foods Japan has to offer.
The actress started with an authentic Japanese breakfast, which features an array of sashimi, fruits, rice, veggies and soups. Seems as though the Japanese have mastered the art of a well-balanced meal—especially as a start to the morning.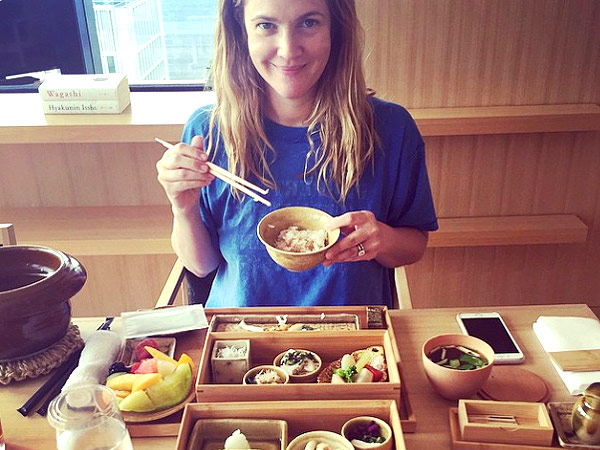 photo: c/o Drew Barrymore
Barrymore and her husband, Will Kopelman, then visited the famous Sukiyabashi Jiro, a restaurant that gained fame because of the documentary Jiro Dreams of Sushi.
The waiting list for everyday patrons is nearly two months long. No problem for Drew of course!
photo: c/o Drew Barrymore
Krispy Kreme doughnuts may be an American institution, but seeing what sort of spin the Japanese put on the classic sweet treat was well worth a stop on Barrymore's foodie adventure. Korean and Japanese bakeries are known for their beautiful presentation and this can be seen here with the colorful display of doughnuts!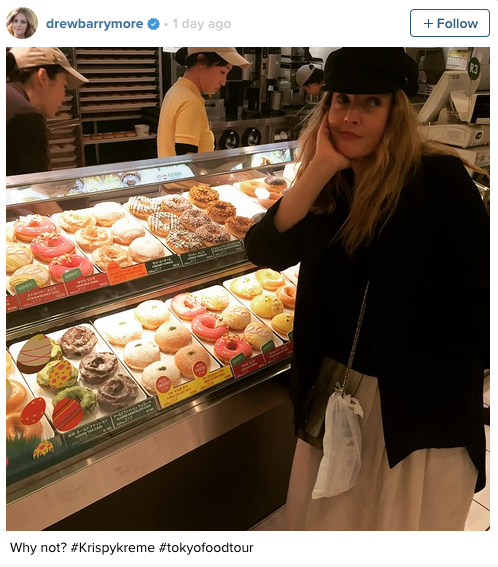 photo: c/o Drew Barrymore
Are you hungry yet? We sure are! Thanks Drew!