Forget about the miniature pooches, Voss Artesian Water is the new arm candy for Hollywood's elite!
Voss Artesian Water proudly hails from Southern Norway and is filtered naturally by layers of sand and rock within an isolated underground aquifer. This unique attribute prevents the water from making contact with the air and other pollutants, resulting in pure H2O goodness. This liquid gold might be the best thing to come out of Norway since Ylvis' "The Fox" viral video.
The sleek cylindrical water bottle has been popping up in the hands of celebs from Ke$ha to 'Twilight' actors Kellan Lutz and Kristen Stewart. Stars are notoriously health-conscious and take keeping hydrated seriously. Voss Artesian Water is available in "still" or "sparkling" and can be found worldwide at many fine retailers or online.
What makes Voss Artesian Water even more appealing is its efforts to minimize their carbon footprint and The Voss Foundation, which helps provide clean drinking water in Sub-Saharan Africa.
Fantastic. You can remain trendy while taking care of your body and support a company with social and environmental responsibility. Win-Win!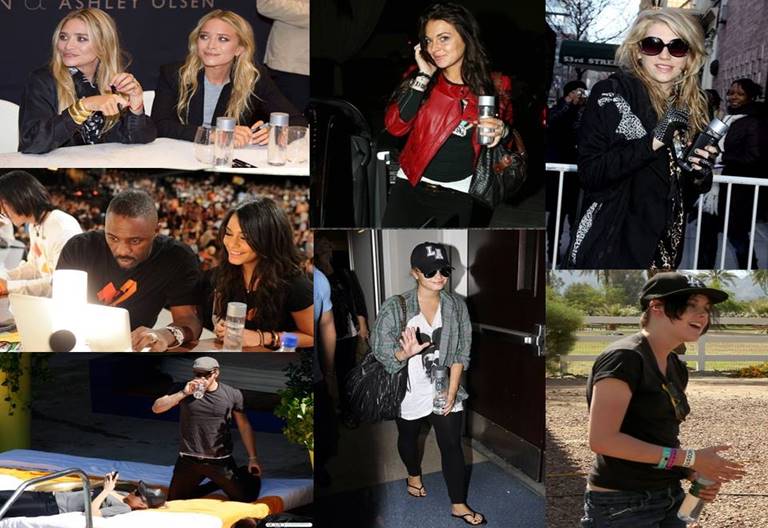 photo: c/o coolspotters
Top Left to Bottom Right: Ashley & Mary-Kate Olsen, Lindsay Lohan, Ke$ha, Vanessa Hudgens, Kellan Lutz, Demi Lovato, and Kristen Stewart.