An infamous celebrity prankster "journalist" jumped the barriers at the Hollywood premiere of Maleficent last week and struck Brad Pitt in the face as he signed autographs for the eager crowd. The prankster has been arrested and faces jail time.
Vitalli Sediuk, 25, a Ukrainian TV reporter infamous for his red carpet stunts, was let go from his job with Ukranian television channel 1+1 earlier last month when he jumped the barriers at the Cannes film festival and stuck his head under America Ferrera's dress.
Brad Pitt was at the El Capitan Theatre in Hollywood for the worldwide premiere of fiance Angelina Jolie's Maleficent. The pair were outside signing autographs for fans on the red carpet when Sediuk allegedly hopped over the ropes, approached Pitt and struck him in the face, breaking his sunglasses.
Pitt appeared unharmed and unfazed, and he quickly resumed signing autographs for onlookers. Sediuk was quickly apprehended, taken to the Hollywood police station, and booked on suspicion of assault, battery, unlawful activity at an exhibition and delay of an exhibition. His bail was set at $20,000.
"This was an unfortunate and inappropriate incident that is being investigated by the LAPD," a spokesperson for Disney, the distributor of Maleficent, said.
Sediuk has been sentenced to 30 days in jail, plus 20 days community labor, 36 months probation and a $220 fine. He has also been ordered to stay 500 yards away from all red carpet events, movie events, and celebrity events. He must also undergo court ordered counseling. Pitt and Jolie were granted a protective order. Sediuk has also violated a previous probation, for jumping on stage with Jennifer Lopez at the 2013 Grammys.
Five of Pitt and Jolie's children were in attendance of the premiere, a rare move for the family.
"Well, oddly, we usually go to the El Capitan, that's where we take the kids," Jolie had said of the theater earlier in the evening. "That's the closest theater to us. This is the first time they were able to come to mommy's premiere."
The couple's five year old daughter, Vivienne, also stars in the film alongside the 38-year-old Jolie.
Sediuk has made entertainment headlines several times in recent history, besides his run-ins with Brad Pitt, America Ferrera, and Jennifer Lopez he has also grabbed Leonardo DiCaprio, tried to kiss Will Smith, and rudely groped Bradley Cooper. This guy sounds unhinged and shouldn't be allowed near anyone famous.
Hopefully this sleazebag's actions don't cause red carpet events to be closed off from fans hoping for a glimpse of their favorite stars.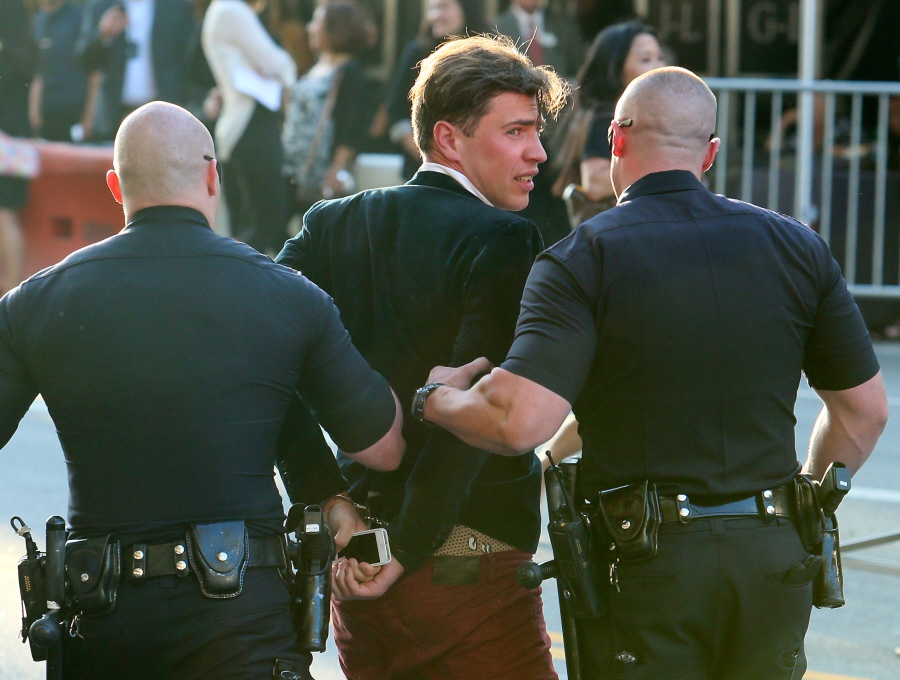 photo: Wenn